Become a CZC Member: Get Rewarded!

A couple of weeks ago on Facebook I eluded to something new and exciting coming to the Comfort Zone. I didn't want to give to much away until we knew exactly how it was going to work out, but now we're rolling with our new program and I am happy to finally be able to officially announce it!
Comfort Zone has signed up with a company called FiveStars which is a customer reward company that specializes in celebrating customer loyalty, particularly for local businesses. The program is a simple concept, reward your best customers, make them happy, have fun, and everyone wins. So what's that mean in Comfort Zone terms??? Let me outline it for you
Stop into the Comfort Zone, pick up your free FiveStars Reward card and have your barista activate it with your phone number. You will earn points for every dollar that you spend, pre-tax, and then you can turn in your points for prizes. That's right, we want to reward you for everything you buy, not just drinks anymore, but merchandise, food, and CZ event tickets too. But it's more than just points! If you give a cell phone number (which we promise to never sell or use for anything other than FiveStars promotions) we will send you text coupons to use in the cafe at a later date. AND, if you go online to fivestars.com you can enter your birthday to earn FREE goodies for your birthday too! Not to mention earning bonus points and checking out other businesses that you can use your FiveStars card at too!
"So Zenia," you may be saying, "how many points do I have to earn to get free stuff? AND what can I get?!"
Alright, alright, I'll get to the POINT...
25 points - a free pastry heart or small cookie
50 points - a free coffee or tea
100 points - $5 off of any purchase
200 points - a free meal (up to a $10 value)
500 points - your choice of our FiveStars

EXCLUSIVE

merchandise.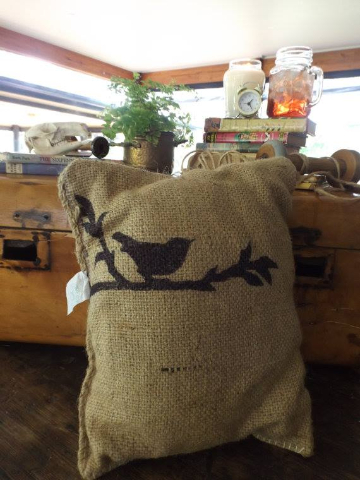 That's right, exclusive, this is stuff you can't buy anywhere else or any other way. Earn 500 points at the Comfort Zone and you'll have your pick. To start this program off we have launched with 3 different options.
We have Comfort Zone Tote bags, by Crooked Nail Creations, fully lined (aka easy to clean), full zip, adjustable strap, water bottle side pockets, and ridiculously durable (trust me, we've tested them, a LOT).
Custom-made coffee bag pillows with a variety of designs hand painted on them. No two are exactly the same because they are all handmade by a lovely mother-daughter team from Australia.
Custom-made WINE from Ten Thousand Vines. Currently in the works, Mike is making us a Chai Spice Riesling and a Coffee-scented Red Wine - we love local collaboration!
I've been describing this program as the grown-ups arcade. You can use your "tickets" up each time you have enough for a free cookie (or if you were me as a kid, the little half moon rubber things that you inverted and watched until they popped up in the air, which would inevitabely make you jump, even though it was exactly what you were expecting) or you can save up your tickets until you have enough for that coveted prize (...the lava lamp for me at the arcade...). But the part that makes it better than an arcade (only because now I have to try to be a responsible adult and can't spend all my money playing SkeeBall
) is that you will earn points for getting lunch, come on - we all need to eat lunch! There are a few small exclusions for earning points, for example, consignment items that we are actually just selling for someone else, don't earn points - for the full details visit our profile on FiveStars.
So that's the story folks, I hope you will be as excited about this program as we are. We are so appreciative of all of our wonderful customers and we are looking forward to sharing this with all of you. We have some big plans brewing up using this program in the future, so stay tuned.
PS. FiveStars has a cool feature, instead of having to carry around 20 different loyalty cards for all of your favorite businesses, you can use the same card for every business that is using FiveStars. If you have an idea for a local business that could use a program like this to help grow their business share it in the comments below. We would love to get a bunch of local places on the system so we can all help each other! Check out this cute video by FiveStars - I know I've felt like this guy before!
Overly excited about my job,
~Zenia