About the Comfort Zone Cafe - Hamburg, NY
The Comfort Zone Cafe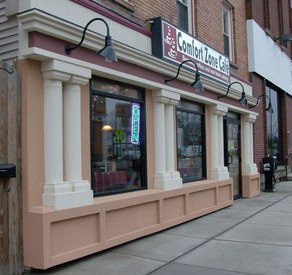 is family owned and operated. Owner, Cynthia Barrett, opened the establishment December 1, 1997. The family takes an active role in the business and toward reaching our goals for the business and the community. Cindy runs the Comfort Zone with the help of her three daughters, her siblings, her husband, and her mother.
We want The Comfort Zone to be a place for people to feel welcomed, like a home away from home. Come in with your laptop and enjoy the free WiFi, bring your kids and use our highchair if you need it, or plan a business meeting in our backroom, we're here to help make your experience as comfortable as possible.
Comfort Zone is proud to be an active part of the community here in Hamburg, NY. We enjoy getting involved with the village business group to orchestrate events and participate in the community of Hamburg all year round. You're likely to find us taking part in great events like the Progressive Dinner, Green Friday, and of course, Burgerfest every year.
We hope that the passion we have for what we do will shine through and give you the atmosphere, quality, and selection that is as diverse as our clientele. We truly love what we do.
Learn more about our family behind the counter.