Beef on Weck Soup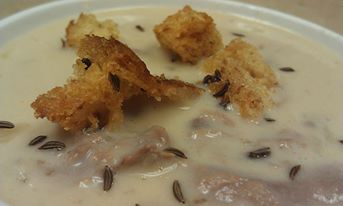 After years of people asking, "when are you going to have the Roast Beef soup again?" We've decided to make a set day for Beef on Weck soup each month!
From now on you will find Beef on Weck soup on our menu the 1st Thursday of every month. It will be available by the cup or bowl to eat in house or by the Quart ($10.20) to take home while supplies last. We
Can't wait until the 1st Thursday for your Beef on Weck fix? Try using our recipe and making it at home for yourself! You may be tempted to use wasabi and cheddar cheese instead of going out to buy the Yancey's Fancy but let me give you fair warning - it is NOT the same! The Yancey's Fancy cheese is really the "secret ingredient" for this recipe.
Beef on Weck Soup by Comfort Zone Cafe
Yields 4 Servings

Ingredients:
4 tbsp Margarine/Butter

1/4 cup finely diced onion

1/4 tsp caraway seeds

1/3 cup of flour

1/2 lb of beef top round, shredded

2.5 cups of beef broth (including cooking liquid from the beef)

1 cup of Half & Half

4 1/4 oz. of Yancey's Fancy Wasabi Cheese, grated finely
Top with:
Weck Roll Croutons (recipe below)

Coarse salt
Directions:
In a pressure cooker - cook beef top round with water for approximately 40 minutes.

In a separate pot - melt margarine, add onions and caraway seeds. Cook until onions are translucent.

Whisk flour into onion/margarine mixture.

Once beef has finished cooking and pressure is released, remove beef, reserve the cooking liquid.

Add beef cooking liquid into flour/onion mixture, whisk thoroughly until mix is smooth. (Note: if you do not have 2.5 cups of cooking liquid supplement with beef broth)

Let cook until base starts to thicken and boil.

Stir in Half & Half

Once soup is heated through, slowly add grated cheese, stir constantly

Season with Salt and Pepper as desired.

Portion into bowls - top with weck croutons & coarse salt.
Weck Croutons:
Chop up 1 weck roll. Toss with 1tbsp oil. Add additional coarse salt and caraway seeds if desired.

Bake at 350 for approximately 20 minutes (or until golden and crispy)

Stir once during baking.