Winter Update
Wow, it's been a LONG time since I've updated you on anything around the Comfort Zone - Sorry!
We are just returning to normal after almost a week of being shutdown due to snow here in WNY. This was the first time we've been closed two days in a row since we opened almost exactly 17 years ago. Believe it or not, we didn't like it!
So this week is Thanksgiving, Black Friday, and Hamburg Holidays Parade week, meaning we'll be running like maniacs - I guess it's a good thing we had a week to rest up for it! We are currently taking orders for Thanksgiving pies and other baked goods, we will accept orders until around noon on 11-25-14 and you can call 716-648-5779 to place your order, obviously, the sooner you let us know, the better.
This year's Green Friday special at the cafe:
Buy $50 worth of merchandise or gift cards and receive a $10 Gift Card FREE! This deal excludes items that we have on consignment, meaning the Born in Buffalo apparel and the framed photos down the ramp to the front door. For more information on Green Friday (yes, I mean Green Friday, not Black!) visit the Facebook Page for the event, it's a fun time and a great way to see everything our village has to offer.
We will be closed on Thanksgiving
As usual, we hope that you all have a nice, peaceful, and grateful day with your friends and/or family. We know we will (especially since we'll be together at the cafe decorating so we're ready for the weekend!).
Hamburg Holidays Parade 2014
The parade starts at 11am this year. We will be geared up and ready for all the happy, thirsty, and chilly Hamburgers who need cookies, hot chocolate, coffee, breakfast, and whatever else we can offer! We hope to see you out to enjoy the parade.
Holiday Gift Ideas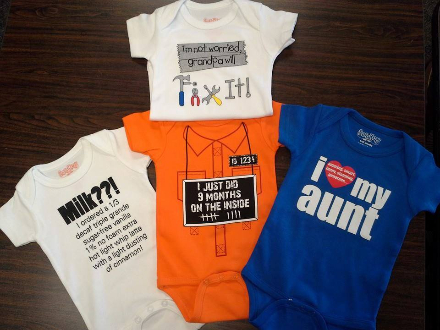 We have a variety of new gifts for the holiday season this year. There is something for everyone in the store, from 6 weeks old to 80 years, we've got you covered. We recently got in a line of adorable and high quality onesies for the little ones in your life, you can't help but smile, I dare ya. Additionally we have some fun and funky items like Tardis Salt and Pepper Shakers, Disappearing Mugs, and Sonic Wallets that make a variety of sounds when you open them, each time you open them something different comes out. We don't have them all, but check them out on the The Unemployed Philosophers' Guild website to get an idea of what I'm talking about!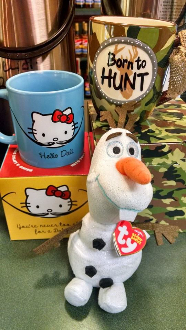 Don't forget that we also sell coffee by the 1/4, 1/2, or whole pound, ground or whole bean for the coffee lover in your life. And for the tea drinker we have numerous teapots, tea cups, and boxes of high quality, Harney & Sons Tea as well.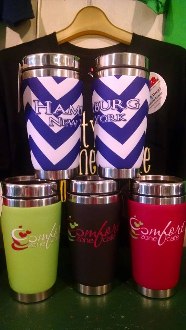 Christmas ornaments, magnets, unique wall decor, and Buffalo themed shirts too. Also for the Comfort Zone or Hamburg, NY lover - check out our new travel mugs, lined with neoprene, they won't slip out of your hand, even if they get wet, and they come in a variety of different designs!
Next week marks our 17th anniversary - I'll try to post an update soon with any specials we may be offering to celebrate.
I hope you all have a great holiday week and enjoy what Hamburg has to offer!
Well rested & under-caffienated,
Zenia